Product Navigation (Inner Page)
Five-proof manhole cover
Five-proof manhole cover
The main features of the five-proof manhole cover:
Five anti-manhole covers refer to anti-sound, anti-jump, anti-theft, anti-fall and anti-displacement.
Specific measures to achieve the above five aspects:
Adding a good-quality rubber ring between the well cover and the well ring can well solve the cause of the noise caused by the wheel cover being rolled by the wheels;
A flexible spring is added between the manhole cover and the manhole cover, which fixes the manhole cover to the well circle, thereby solving the problem of the manhole cover bouncing;
The connecting shaft is used to connect the manhole cover with the manhole base, and the heat-resistant steel with high rigidity and good toughness is used, which not only can ensure the anti-theft effect of the manhole cover, but also has the advantages of convenient maintenance and safety, thereby completely solving the manhole cover anti-theft problem.
Anti-sinking: This type of manhole cover extends directly into the hole, which can solve the problem of the manhole cover moving under the rolling of the vehicle.
Fall prevention: The manhole cover and the well ring are connected with a hinge to solve the problem of fall prevention.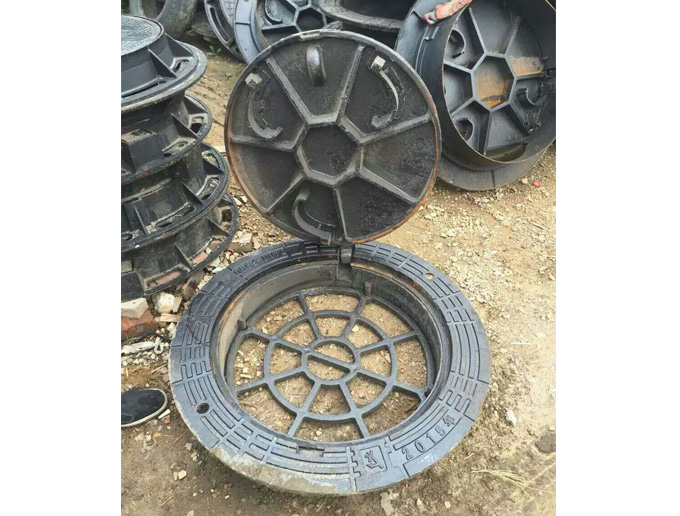 Application scope of five-proof manhole cover:
Light-duty: Greenways, roads or sidewalks that are prohibited from motor vehicles.
Ordinary type: roads or parking lots below Grade 10.
Heavy: Suitable for urban motorized lanes and non-motorized lanes, while light weight is suitable for non-motorized lanes and sidewalks.
Extra heavy: Main road of motor vehicles.
Related Products